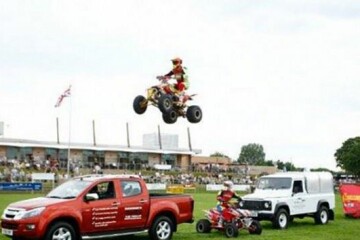 Event Starts: 19/06/2019
Event Ends: 20/06/2019
Link: https://lincolnshireshow.co.uk/
The Lincolnshire Show has evolved into a one stop event for families, schools and couples looking for a fun, educational and entertaining day celebrating all that's great about Lincolnshire.
The Lincolnshire Show is one of the best county shows offering a huge variety of spectacular entertainment, food, shopping, livestock and equine classes, and a whole host of other things to see and do.
You'll be spoilt for choice with a variety of acts, classes and performances in the Main Ring & Countryside Ring, while over in the Show Gardens & Floral Art section you can browse and admire the beautiful blooms on display. Then it's time to shop at some of the 600 trade stands which will be selling everything from tractors and machinery to Show essentials - sunhats and ice cream!
Visitors can rest their legs and jump aboard the land train to visit the cows, sheep, pigs and array of new and traditional farm machinery.
The Food Court will be brimming with Lincolnshire produce from hog roasts and sausages to jams, pickles and cakes. You won't be able to resist the food on offer and be inspired by a selection of local chef's recipes in The Lincolnshire Kitchen.
The Show is packed full of educational stands on food, farming and animals, not least in the Schools' Challenge area and the education marquee!