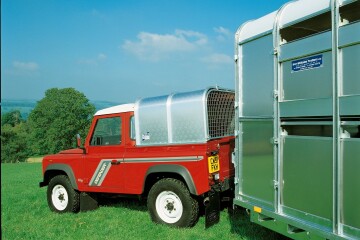 My vehicle has a maximum towing weight of 1500kg and my trailer has a maximum gross weight of 2000kg. Can I still tow this trailer? Yes, as long as the unladen weight of the trailer you are towing combined with the trailer load does not exceed 1500kg, then you can tow this trailer with your vehicle.
There is no legal requirement to downrate the plate on your trailer.
Drivers must also possess the appropriate driving licence with B+E category for towing this particular trailer combination as well as adhering to tachograph rules, if applicable.
How do I find out what weight trailer I can tow with my vehicle? Most vehicles have a manufacturer's maximum recommended towing weight. It's usually listed in the handbook or vehicle specification sheet. You can also find it on the vehicle identification number (VIN) plate on the car. If in any doubt, contact your vehicle manufacturer.
When towing a trailer, the following needs to be considered:
The actual weight of the trailer and its load must not exceed the maximum towing weight permitted by the vehicle. For example, if the maximum towing weight of your vehicle is 2000kg and the trailer you are towing has an unladen weight of 500kg, then you can load up to 1500kg on your trailer providing the maximum gross weight of the trailer is 2000kg or above.
How do I connect the trailer to the towing vehicle? Ensure that the towing vehicle's tow bar is in good condition.
Check that the ball head cup is well greased.
Raise the coupling head above the tow ball by using of the jockey wheel.
Position the tow ball under the coupling head, then using the jockey wheel, lower the coupling head onto the tow ball whilst holding the coupling head open. Once the two parts are correctly engaged, the coupling head handle will lock in the closed position. Twist the coupling head and check that the trailer is properly coupled.
Wind the jockey wheel upwards until fully retracted and the top handle is tightly locked - now loosen the main clamp and raise the jockey as high as possible in the clamp. Re-tighten the clamp, ensuring that the jockey wheel is well clear of the brake mechanism and is securely retained.
Check presence and condition of the break-away cable, if damaged or not present, replace immediately. Connect break-away cable to towing bracket on towing vehicle.
Connect the electrical plug to the socket on the rear of the towing vehicle. Check that all lights are fully operational. Ensure also that the electrical lead cannot drag on the ground.
Finally ensure that the hand brake is in the fully off position.