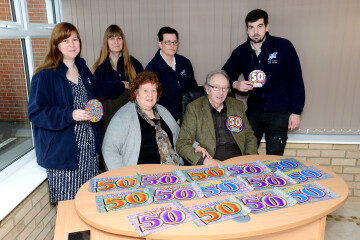 LINCOLNSHIRE TRAILER FIRM 'TO THE STARS' CELEBRATES 50 YEARS IN BUSINESS
A family-run trailer firm from Lincolnshire which counts TV gardeners and politicians among its former customers is celebrating 50 years in business.
Husband and wife duo Jean and Bevis Scott have been at the helm of Scott Trailers since 1965 and have no immediate plans to take their feet off the pedal – despite both being in their 70s.
The Walcott-based firm is one of the oldest specialist trailer businesses in the country, serving Lincolnshire and Nottinghamshire, and it took a major step forward when, in 1973, it became a distributor for Ifor Williams Trailers, Europe's largest trailer manufacturers.
It has risen from humble beginnings to become a highly-successful trailer supplier which now employs nine people, seven of them being family members – including Bevis and Jean's three daughters, Kay, Claire, Michelle and Michelles Husband Chris and son Jack.
It's a remarkable achievement for the local firm which originally started out as a husband and wife team with just one labourer. Amazingly, that same employee, David Wakefield, continues to work for the firm to this day and is celebrating his 50th work anniversary next year.
"We've had a few famous faces buy our trailers over the years. We've sold to the former Conservative Cabinet Minister Douglas Hogg and the TV gardener Alan Mason is a regular."
Bevis and Jean are both still involved in the business but have handed over responsibility to their daughters, who are now directors of the family firm.
"It's nice to be able to employ your own family," said Jean.
"It's hard to let go yourself but we are still there to advise."
Jean still very much believes good customer service is the key to longevity in business.
"You have to be fair to people and you have to be pleasant," she said.
"A lot of people nowadays take the aggressive sales approach but it doesn't work. You just have to keep smiling and look after people to the best of your ability."
Peter Nesbitt, the Business Development Manager at Ifor Williams Trailers, had nothing but praise for the Scotts Trailers.
He said: "We are delighted that the Scotts have been successful distributors for so many years and it is great to do business with such a close-knit family.
"We have a very high regard for the Scotts: they are an extremely professional and very hard working family.
"As well as selling our trailers they also are very adept at offering bespoke adaptations to our trailer range to suit individual customer requirements.
"We are looking forward to celebrating many more anniversaries with them."