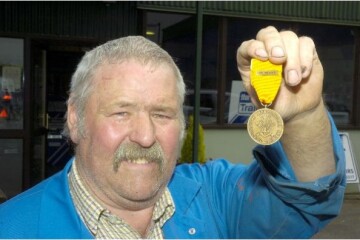 Link: http://www.iwt.co.uk/news/show/loyal-david-still-going-strong
A teenager seeking his first job after leaving school was delighted to be taken on by a trailer-making firm near his home. And now, 45 years on, David Wakefield is still there, his skills and experience playing a key part in the success of the company.
David, 60, is an engineer with Scott Trailers Ltd, of Walcott in Lincolnshire, the region's only distributors of Ifor Williams Trailers, and he has no plans to retire.
Five years ago he was presented with a long-service medal by Lincolnshire Agricultural Society, an award made to employees in the agricultural and ancillary trades for those with 40 years' service with the same employer. This year he received a bar to accompany the medal to mark his extra five years' service.
"And I want my next bar in five years' time, when I'll be 65," he said.
At 15 David had tried unsuccessfully for a couple of jobs when he was advised to approach Bevis Scott, who had just established Scott Trailers. He got back on his bike, cycled the five miles from his home and was delighted to be taken on as an apprentice.
"At that time at Scott Trailers we built almost everything ourselves and 50% of it was woodwork. Now it's largely metal and Ifor Williams Trailers, of course, build all the trailers," said David. Nowadays his work is comprised mainly of servicing and renovating and repairing older trailers and with the range of trailers constantly increasing he is often faced with new challenges.
"Although I have been here for so long I still enjoy tackling new problems and finding solutions," he said.
Company director Michelle Harper, one of Bevis Scott's three daughters involved in the business, said David joined the company just before she was born. "He's just like one of the family," she said. "He's an extremely loyal employee and can turn his hand to anything which needs doing.
"We're very glad that he's stayed with us for so long and his experience is invaluable to us."
Scott's is one of the country's oldest trailer businesses and has been selling Ifor Williams Ltd's products from the outset, with customers throughout Lincolnshire and Nottinghamshire.
Peter Nesbitt, the Business Development Manager of Ifor Williams Trailers, said: "The loyalty and dedication shown by David over so many years is an example and an inspiration to us all. Long may he continue!"
Photo courtesy of the Sleaford Standard