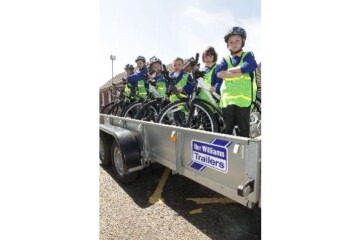 Link: http://www.iwt.co.uk/news/show/bike-trailer
Experts improving education in East England turned to Ifor Williams Trailers to get them where they want to go.
An education trust with world-wide projects helps local education authorities improve their education service – which can include taking youngsters on outdoor pursuits.
But to haul 12 bicycles and other equipment safely on trips, Education Trust CfBT were adamant it had to be an Ifor Williams trailer.
The not-for-profit Trust has a long-running contract with Lincolnshire County Council to work in partnership with its education department help improve the service.
That includes outdoor educational opportunities and educational visits, using the County's Freiston Environmental Education centre near Boston, a 19th Century hall which offers residential courses for up to 40 youngsters, aged between 7-18 years
Andrew Bradshaw, the Trust's head of education beyond the classroom, and himself a former Lincolnshire primary headmaster, said: "The Trust is a charity which has a world-wide operation, but here we are working on a school improvement service in partnership with Lincolnshire County Council. One part of that agreement is to operate the Freiston centre for environmental education.
"We work with a whole range of youngsters and that can include vulnerable and disabled children.
"We bought the bicycles so that we could take children out to experience not just cycling but also things like cooking skills in the open air. But we needed a trailer we could transport these 12 bicycles.
"We already had an Ifor Williams trailer specially adapted so that it could carry bikes for disabled youngsters, for example a bike which can take a wheelchair, and side-by-side bikes.
"We went on the internet and looked at so-called specialist trailers and frankly they were naff. We need to have things that last so we knew we had to have an Ifor Williams Trailer and so we went to their main distributor Scotts."
Salesman at Scotts Trailers in Walcott, Kevin Scarborough, said: "The school needed a trailer which would enable them to take the children's bicycles on journeys to Rutland Water and other places for rides.
"They had been on the internet searching for suitable trailers but they could not find anything which was near to the quality of the Ifor Williams trailers.
"Andrew came to me and said they wanted a trailer which would carry 12 bicycles and I thought 'Oh my God that won't be easy!'.
"We ordered a GD 125 Ifor Williams trailer with a ramp door and built special racks here to fit inside. It works really great. We've included a big tool box on the front. The way it is designed you can load 12 bikes in just 10 minutes and put rucksacks and things in the front box.
"The man behind the design was our boss Mr Bevis Scott, who started this firm. He has a wealth of experience in this business and he gave it his full attention and came up with a design, tried out a prototype and modified it. It took about two and a half days of work."
Scotts Trailers of West End, Walcott have been the main distributors for Ifor Williams Trailers in Lincolnshire, for nearly 50 years.
CfBT was established 40 years ago and now has an annual turnover exceeding £100 million and employs more than 2,500 staff around the world supporting education reform, teaching, advising, researching and training.
Andrew Reece-Jones, the Design Engineering Manager at Ifor Williams Trailers, said: "I know our trailers are versatile but it never ceases to amaze me the variety of uses to which they are put."